Operation Restore Hope New Zealand and Germany Year 2020 Report
As we enter the new normal in this new era of pandemics, grounded and locked down for many months, life's uncertainty and fear hanging over traveling still lingers; no one knows how quickly travel and business with air travel will improve, whether we will still fly as much, and what the travel experience will look like once new health security measures are in place 
One thing is certain: Until then, there will be many more cancelled vacations, business trips, weekend getaways, and family reunions, not to mention our annual humanitarian trip for the Operation Restore Hope New Zealand and Germany in cooperation / collaboration /partnership  with The  ASK Foundation headed by Mrs Via Marquez Hoffmann and her team and Dr Neal Orteza, Hospital Director of our Manila Host Hospital  and his team at Ospital ng Paranaque (OSPAR) .  
It was July 2019 when Operation Restore Hope NZ and Germany started its logistical planning for setting up the 23rd  April  to 2nd May 2020 Medical Mission to Manila, Philippines.  Flights and accommodations were booked, special temporary permit to practise in the Philippines were organised and submitted, liaising with local community leaders in the Philippines, recruitment and screening of patients had started, hospital set-up arrangements begun, but sadly, the world ground to a halt in the face of the Covid 19 pandemic. And the effects did not stop there: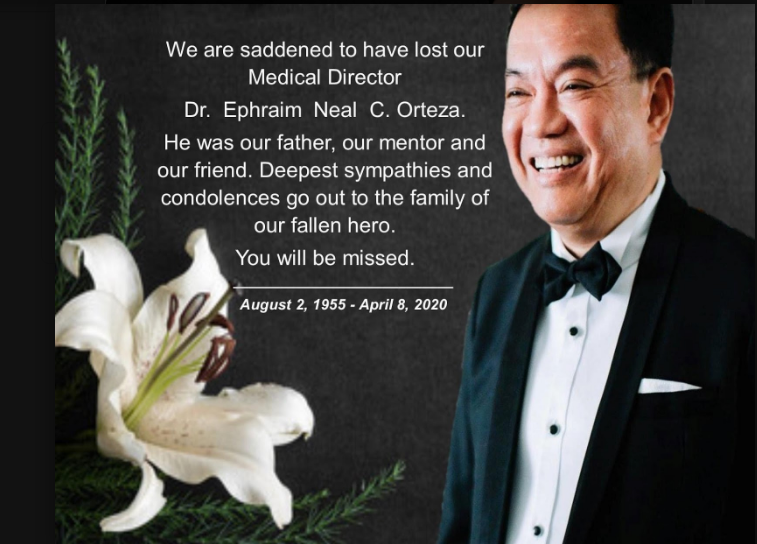 It was with deepest sadness that we heard that we had lost our dear friend and Hospital Director at Ospital ng Paranaque, Dr EPHRAIM NEAL ORTEZA, Pediatrician.  Extremely devoted to the medical profession, he was the type of doctor who would spend the whole day in the hospital, attend a formal dinner in the evening and return even at close to midnight – tuxedo and all – just to check on seriously ill patients.
Prior to the lock-down, he had his hands full attending to the first wave of coronavirus victims in the south of the metropolis of Manila. Soon after, his wife, Dr. Imelda Olivarez, noticed that he had difficulty breathing. Since she knew that her husband was never the type to complain, she insisted on hospital confinement for him.
After a few weeks in the Intensive Care Unit of Asian Hopsital, Dr Neal Orteza died,  a frontliner, in the service of humanity.  A few hours before Araw ng Kagitingan (The Day of Valor) in the Philippines on the 9th April 2020, a valiant fight against COVID-19 was lost.  Dr Ephraim Neal "Bimboy" Orteza, a Paediatrician and Medical Director of Olivarez General Hospital (OGH) and Ospital ng Paranaque (OsPar) I and II, succumbed to the covid-19 disease at 11 pm on April 8 2020 after two weeks of "good and bad days" at the Asian Hospital in Muntinlupa.  He was 64 years old.
In an announcement by Ospital ng Paranaque, it says "We are saddened to have lost our Medical Director Doctor Ephraim Neal C. Orteza. He was our father, our mentor and our friend. Deepest sympathies and condolences go out to the family of our fallen hero. You will be missed."  In a solemn tribute given by his children, Dr. Ephraim Neal Orteza was the dad who was an "amazing husband to his best friend, our mom, loving father to four daughters, beloved doctor of Olivarez General Hospital and trusted leader at Ospital ng Parañaque." Most of all he was a "faithful servant of God."
The next leap forward will come from virtual reality, which is advancing at rapid speed and will take us by surprise on how we meet these days via zoom or skype e-meetings.  The future of our next medical mission to Manila Philippines is nevertheless, assured. We are 100% committed to continue this humanitarian effort, the shared vision of the Operation Restore Hope New Zealand and Germany Team and the ASK Foundation.  We will work closely with our collaborators, supporters, friends and allies and we will wait until it is safe to travel again in the future.  Hopefully an effective vaccine against this viral scourge is not too far away. 
We are hoping that you and your families are all well, safe and coping well with our "new normal" in this year 2020 with all its challenges.
It is too early for long-term predictions and pre-planning, but when the first travellers return to the skies, they will find measures that have become commonplace adapted to flying and to going faraway places not considered as our own bubble.  
The freedom to travel internationally will be vital to the post-pandemic recovery.  Our hope is that we will come out of the crisis with a better travel experience driven by moving people through city airports more efficiently and increased confidence in health safety. 
COVID-19 has reminded us how little we can confidently say about tomorrow, or even tonight. But without a doubt, for better and worse, we will be traveling again for the future Operation Restore Hope New Zealand and Germany's International Medical Mission to Manila. 
Please watch this space. We'll be back.
Hector Gonzales
Administrator / Mission Coordinator / 8th October 2020